This document outlines workflows, scope, sources and tips for collecting memes related to Russia's war on Ukraine.
Using suggested (or your own) sources, find a meme on social media and make sure it fits the scope. Some specific hashtags can be useful.
Download it. (See tips of downloading files from Telegram).
Add the file to the collection, using the submission form.
If you need to check the meme content type, you can consult our growing Meme Glossary.
With so many memes available for collecting, it is not realistic to completely avoid duplication, but we can try to reduce it. To that end, please:
Check with the SUCHO Meme Wall if your meme is already there (if you can, search by one of the filters)
Use the Meme sources spreadsheet to mark the sources that you plan to monitor regularly (in tabs for specific social media).
What to collect?
Memes! What are they? Here are some helpful explanations from:
Format:
Languages:
Ukrainian
Russian
Belarusian
other
Please avoid memes that are:
Pro-war
Artists' works (these usually have an author's signature or stamp present inside the image) (view example)
The following meme types will be collected, but might not get publicly displayed:
If you are not sure about any of these categories, don't worry, please go ahead and submit your meme, we'll curate the collected memes before we publish them on the wall. Also, do not hesitate to post a question on SUCHO Slack in the memes_collection channel!
Here are some suggested strategies for finding memes.
Social media (Facebook, VKontakte, Odnoklassniki, Instagram, Twitter, etc., see some suggestions below):
Visit topical groups, channels, accounts, etc.
Scan comment threads under various posts.
The web at large: search the web for specific meme types or memes on specific topics, for example:
русский военный корабль
а я сейчас вам покажу
Etc.
These are some suggested hashtags:
#русскийкорабль
#русскийвоенныйкорабль
#аясейчасвампокажу
#всенетакоднозначно
#Чернобаевка
#паляниця
#восемьлет
#z
#zапобеду
#концерткобзона
#кобзон
#русскиесолдаты
#русскаяармия
#украина
#намнестыдно
#мненестыдно
#мырусские
#putin
#standwithukraine
#ukrainewar
To work with images and video from Telegram channels, you'll have to install the Telegram software. When you hover over a post, hit arrow that will appear in the upper-right under the timestamp, like so: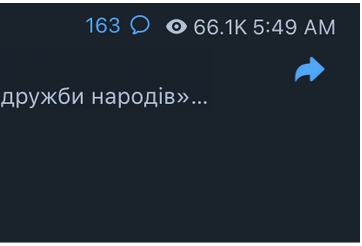 Then in the window that pops up, hit the up arrow in the box in the upper right, and then choose "Copy link" to get the link to put into the form.

You can download the image, and/or screenshot it (especially if the text is outside the image in the post itself).